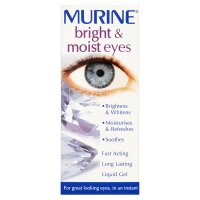 RRP: £4.07/15ml
--What does the promo say?--
"Murine Bright And Moist Eye Drops are formulated with a brightener to give super-white bright eyes. The long lasting drops also contain moisturisers helping to refresh and soothe eyes. Plus, the eye drops come in a liquid gel, a slightly thicker consistency helping them to stay in your eye. For great looking and great feeling eyes, in an instant!"
--Packaging--
Beautiful in its design and detailed in its instructions without being overwhelming. Tells you everything you need to know on the box and on a leaflet inside. The plastic eye drop bottle is plain, white, and with a tapered tip as well as a secure screw-on lid.
--Application--
Adults and teens (from age 13 onwards) are advised to tilt head back and squeeze one or two drops into each eye, up to four times a day, without letting the tip of the dropper touch the eye or any other surface. Contact lens wearers can use these, but you can't put in your lenses until 15 minutes after applying the drops. The drops are also not recommended for everyday use. In any case, application is simple and not at all problematic.
--Appearance--
The eye drop gel is completely clear.
--Scent--
Nothing really obvious, not even anything vaguely medical.
--Texture and consistency--
Normally I hate using eye drops as within a few minutes it travels down through all the other vital canals (nasal, throat...) before choking you with its taste. This did not happen with these at all, so I was very pleased. If all eye drop manufacturers could adopt this formula then they'd be making millions of users' lives so much more pleasant.
--Effects on the eyes--
I admit to being sceptical about the product's claims to give me great-looking eyes "in an instant". However, these drops did do exactly that, giving me natural-looking but visibly whiter and brighter eyes. It did also help to refresh and soothe, so would be helpful if you were feeling tired.
--Value for money--
At £4 it's hardly going to break the bank, but I still don't know if I'd buy it again: I can't see it becoming a regular part of my routine, as I'd be mostly likely to use it only if I were very tired, or if my appearance was going to be exceptionally important/if photographs were going to be taken (e.g. at a party or at an important meeting). But seeing as the pack advises you to throw it out within 28 days once opened, you'd need to be quite sure that you were going to use it a darn sight more than this to make it worth your while. I would use Murine eye drops again - but perhaps only for a more specific everyday concern, such as dry eyes or irritation and redness.
Other Murine products
Dry And Tired Eye Drops
Contacts Refresh and Clean Eye Drops
Irritation and Redness Relief Eye Drops
www.murine.co.uk