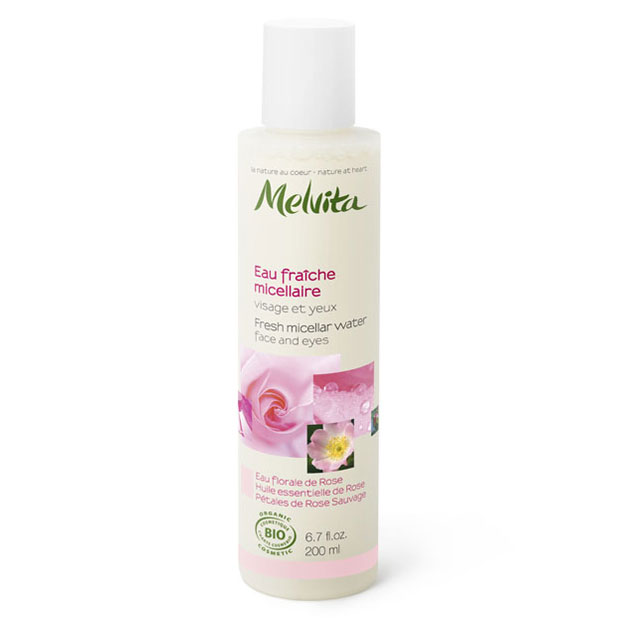 Our Southern France correspondent, Sarah Cross, reviews this product from quintessentially Ard

èche brand Melvita.
RRP: £15
--What does the promo say?--
"

This fresh and delicately perfumed

3-in-1

formula

removes make-up, cleanses and tones

, thanks to the action of micelles, which trap impurities.

Enriched with wild rose petal extract (derived from roses that grow at high altitudes) and moisturizing rose floral water, the Fresh Micellar Water cleanses skin perfectly without any drying effect. Within moments, skin is soft, fresh and radiant. In a single, simple step, skin is free of make-up, perfectly clean and fresh!"
--Packaging

--
The bottle is clear and

slightly frosted, showing the level of micellar water as you use it. It has a white screw top

lid. The bottle has the green MELVITA logo with the words 'Eau

Fraiche

M

icellaire' in

pretty pink (translated underneath into English) and, new for Melvita, a lovely scattered

arrangement of photographs in varying sizes with some very attractive pictures of roses, wild and garden varieties, petals, bees collecting nectar etc. There is a pink line traced

around the bottle towards the bottom, giving a very pretty 'girly' effect. It is a

lovely

addition to the array of lotions and potions women normally have on their bathroom

shelves.

--Application

--
Apply morning and evening to face and eyes in circular

motion, using a

cotton pad. No need to rinse.

--Scen

t--
If you like roses, and I do, then it is divine!

--Appearance--
A completely clear liquid.
--Effects on the skin--
It removes make-up very efficiently and smells lovely

afterwards. Nice going to bed smelling of roses! I tend to use this only at night to remove make-up but the smell is a bit addictive, and I could see myself using it in the

morning as well to simply freshen up the skin before putting moisturizer on.

--Value for

m

oney

--
Seems to be lasting quite well so far. Can't say yet how long a
bottle will last but I have been using i

t

for at least two weeks

non-stop and only a

quarter of the liquid has been used. Would repurchase.
perfect partners
Argan Oil, £18
Hydrating Facial Gel, £25
Moi

sturising Rose Nectar, £25