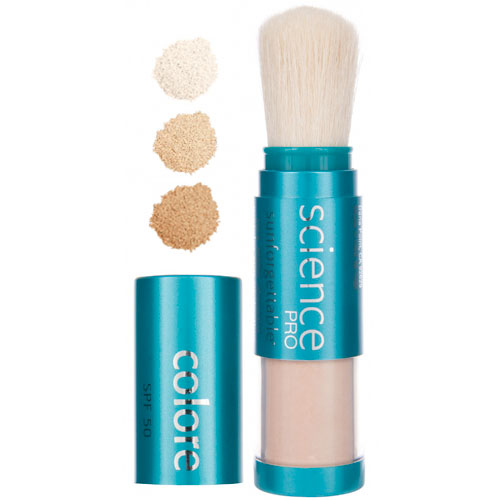 Colorescience Sunforgettable
Having written quite a few sunscreen posts in my time, it occurred to me that the natural sunscreen market is proliferating, with varying degrees of success, as people fight back against an industry that plays on people's fears (i.e., people are so scared that their skin will be damaged by the sun that they will pay whatever price the big companies ask for their sunblocks - regardless of what these may contain). This has been helped enormously by the mineral makeup industry, which seems to find it easy to integrate natural sun protection factors into its powders, foundations, primers and concealers. And as I've said in a recent post, different people have different priorities, meaning that there are many wishing to seek out these alternatives.
My favourite natural SPF-integrated makeup brands have to be as follows:
Colorescience - their Sunforgettable range also offers excellent coverage for the face for those of us who can't quite face the world without makeup. Its bronzers, primers and so on also contain SPF.

Arbonne - the only brand my auntie's oncologist endorsed following her cancer scare.
Perhaps the first natural sun cream I tested was by Liz Earle, and to be honest, I wasn't that keen - it was extremely thick and stiff, difficult to apply and rub in, and didn't have a good shelf life either. (They've since shelved the idea - presumably until they can get it right - for now only offering an aftersun gel.) But the situation has improved massively since then - I recently tested a tinted moisturiser from Spa Technologies, and while it failed on that front (given that it offered no coverage whatsoever...) it also had a natural SPF of 45, and felt more like a luxurious face cream than a chemical sunscreen. Fantastic news for everyone wanting a more natural alternative to the market mainstays.
And there's plenty of choice too - listed below are just some natural sunscreen brands available in the UK (and while my two favourite brands, listed above, are a little more costly, going 'au naturel' does NOT have to break the bank). As I haven't tried all of these, your feedback would be greatly appreciated. Leave a comment if you have!