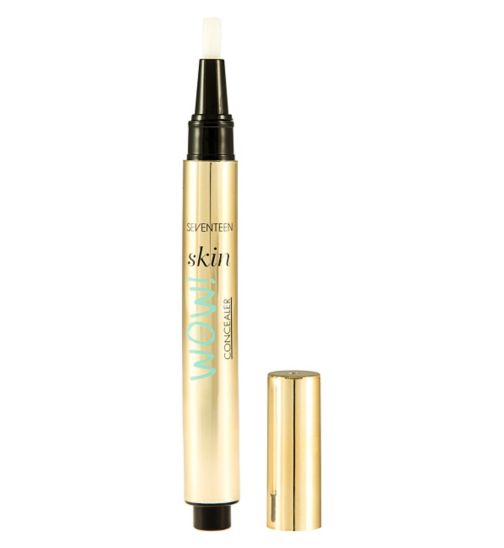 RRP: £4.99
# of shades available: 2
--What does the promo say?--
"SEVENTEEN Skin Wow Concealer does it all!
Apply under the eyes to cover and reduce the appearance of dark circles and brighten the skin under your eyes.
Leave your skin looking more healthy, more radiant and more luminous!
Why not try it for strobing too? Skin Wow Concealer highlights your cheekbones, brow bones and cupid's bow!
Give skin a WOW!"
--Packaging--
The gold pen-style packaging is elegant and reminiscent of Yves Saint Laurent's classic Touche Eclat - right down to the brushstroke tip and the push-down button that releases more product. So while pretty, it's not original - but does at least work well.
--Application--
After applying primer and foundation, dot over any blemishes that are still visible before blending in (firstly with the brush tip, and then with your finger if needed). As mentioned in the promotional materials, you can also use it to lessen the effect of under-eye circles (although as I am rubbish at strobing and contouring/don't see the point, I haven't tried it for this purpose!).
--Appearance--
Luckily, I was sent the lightest shade, as requested of 17's PR. This blended in perfectly, covered blemishes reasonably well, and matched my skin tone; however, with only 2 shades available, I doubt this would be the case for everyone, so I'd definitely recommend testing in-store first.
--Scent--
Nothing discernible really - so no need to worry if you're sensitive to overly-perfumed products.
--Texture and consistency--
As mentioned, this is smooth and blends in well.
--Longevity--
Despite good initial results at the beginning of the day, I'm not convinced that this is robust enough to last all day once applied. At least the pen design means it's easy to slip this into your handbag for on-the-go touchups.
--Value for money--
At £4.99 this is priced reasonably (comparing favourably to other market leaders such as L'Oreal, Bourjois and Rimmel) and value increases thanks to Boots' regular special offers. It's elegant, convenient, smooth to apply, and matches my skin tone well (but with only 2 shades available this won't be true for all), so there's not a lot to dislike. It just needs to last a little longer so that it can stand up to my long working days - although possibly using it with partner products (listed below) might remedy this.
perfect partners
Skin Wow Primer, £5.99
Instant Glow Skin Wow Tan, £5.99