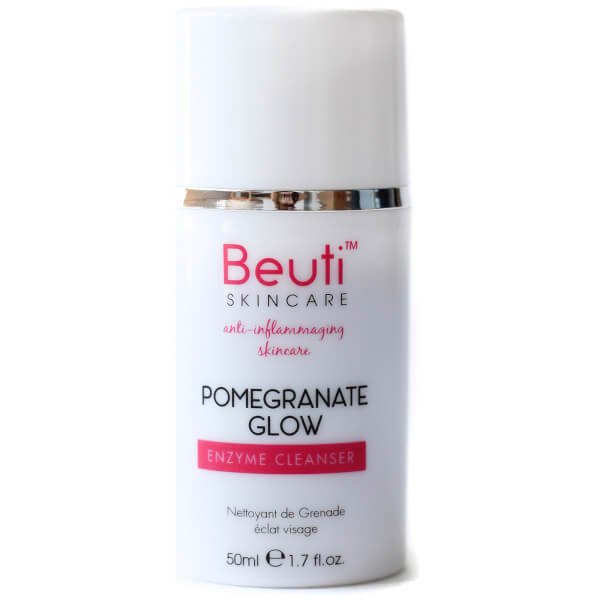 RRP: £35 for 50ml
--What does the promo say?--
"Improve skin tone and texture with the

Pomegranate Glow Enzyme Cleanser

from

Beuti Skincare

. Infused with fermented Pomegranate, an ingredient that delivers the benefits of Glycolic Acid without causing irritation, the gel balm hybrid transforms into a milk upon contact with water to effectively exfoliate and buff away impurities.
A blend of Rose Clay and Copaiba Balsam work in tandem to smoothen and refine skin, whilst soothing and protecting against inflammation for long-lasting comfort. Featuring a 3 flower essence (Iris, Laurel and Myrtle), the luxurious cleanser gently clarifies your complexion to leave it looking radiant, youthful and revitalised. Can also be used as a mask for a more intense treatment."
The red and white packaging gives a refreshing and fruity impression that clearly evokes the pomegranate on which the product is based, in a modern and minimalist way. Sadly the bottle seems cheaply made (lettering etc rubs off quickly) and the pump-action was tough to use as well (you had to press down quite hard to get the product to come out).
Simply rub over wet skin before rinsing off.
A gorgeous rosy brown colour that transforms into a milky substance on contact with water. No visible residue is left on the skin.
The rose clay and florals are detectable without being overwhelming; they combine to create a delicate scent that clearly comes from high-quality, authentic materials.
--Texture and consistency--
The product upon initial emission from the pump-action bottle is a smooth paste. It doesn't lather up like traditional cleansers, which can take some getting used to. It thins out significantly on contact with water to make a milky substance, which I unfortunately felt led to some wastage as it seems that no matter how little water you add, a good deal of the product runs down your wrists while you are trying to apply it to your face.
My acneic skin was definitely calmed down thanks to using this product; it's non-irritating and calms redness while reducing dryness.
This product is effective thanks to its high-quality ingredients, and quite luxurious to use as well. However, I would need to see improvement in the packaging and texture before repurchasing. Nevertheless, I feel this product has real promise, and as I love the brand's Sleep Elixir too, I will definitely be keeping an eye out for any expansion to the range.