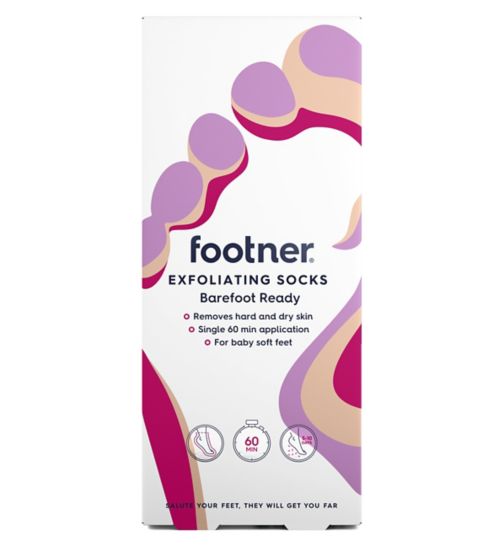 RRP: £19.99
--What does the promo say?--
"

Footner Exfoliating Socks is a revolutionary product to give you smooth, softer feet with just one 60 minute application Footner Exfoliating Socks make use of the skin's natural exfoliation process to rid your feet from years of dead skin build-up. After just one application your feet will shed this dead skin. Feeling young and rejuvenated, your feet will be smoother than ever.
Using this product will result in the peeling of the hardened skin build-up on your feet. Footner Exfoliating Socks makes use of the skin's natural peeling process to remove callus and dead skin from the feet. 5-10 days after application the layers of dead skin will peel from the soles of the feet. This peeling process will continue for about 2 weeks depending on the thickness of the skin.
After this time you will be left with soft, smooth, rejuvenated, baby-soft feet."
The pink box is cheerful and the silver pouch containing the 'socks' is modern and sleek. The 'socks' themselves are more like plastic bags, filled with the treatment fluid.
Cut open the 'socks' along the indicated line, and ease your clean, dry feet into them. Seal them with the adhesive strip along the side of the 'sock', closing gaps as far as possible. Finally, put normal socks on (perhaps an old pair in case the treatment fluid leaks) so that you can walk around as usual during the treatment. Once the treatment time is up, remove and dispose of the plastic 'socks' and rinse and dry your feet. This is an easy process that is not too messy.
As mentioned, the 'socks' are made of durable clear plastic. The treatment liquid is also transparent and leaves no visible residue on the feet.
--Texture and consistency--
The treatment fluid is watery and is easy to rinse off post-soaking. Rather than being the kind of exfoliator that comes with bits of beach embedded in it, this is a chemical exfoliant that has an even consistency.
Skin does not feel irritated by the treatment fluid, and initially little difference is felt. However, over the next week or two, there is visible peeling as the vast majority of dry skin falls away. You will need a powerful vacuum cleaner, a patient partner, and a good gross-out factor threshold. Just when you begin to genuinely believe you were actually a lizard in a past life, you are, as promised, left with baby-soft skin.
Initial results are impressive, and value for money increases if you look out for special deals (Boots are offering a 25% discount at present, for example). Equally, we could definitely argue that this is excellent value compared to the prices of traditional spa treatments. However, I found that the results weren't as long-lasting as other exfoliating socks that I've tried, so would be keen to shop around to ensure that I was getting the very best outcome for my money.
Daily Repair Cream, £8.49