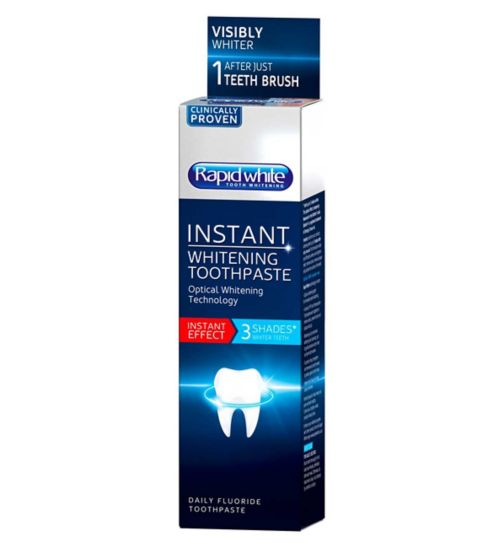 RRP: £7.99
--What does the promo say?--
"

A patented blend of PVP and Pentasodium Triphosphate synergistically working to remove stains and preventing tartar and plaque build up. A whitening silica maximises whitening and cleansing yet its gentle abrasive action will not harm tooth enamel. Fluoride to help strengthen and remineralise tooth enamel to protect against tooth decay. Intense mint flavour for long lasting freshness.Instantly transforms your smile by whitening teeth up to 1 1/2 shades whiter after only one brushing! This proprietary formulation safely and efficiently whitens and brightens teeth, removes stains, removes plaque and polishes the surface of the teeth. Get that "WOW" sensation now!

"
--Packaging--
The white, silver and blue tube is energetic and vibrant (an effect also created in part by starburst-style graphics) even if lacking originality. The screwtop works in the usual way.
--Usage--
Foams up quite a bit in the mouth, so do use sparingly. Apart from that, proceed normally.
--Appearance--
A white paste which leaves no residue in or around the mouth after rinsing.
--Scent--
Quite a strong mint flavour.
--Texture and consistency--
As mentioned, foams up quite a bit more than normal toothpaste, but not really unpleasant.
--Effects on the teeth--
I am aware that I speak as someone who's had fluorosis ever since their adult teeth came in - knowing, therefore, that I'm a bit of a special case. I wouldn't say that I experienced instant whitening - mitigated for, of course, by the packaging promise that I would see my teeth being "up to" 1.5 shades lighter after just one brush. However, I did notice that in the long term, any mottling on the teeth was definitely reduced and they were on the way to looking whiter as well. So you may need some patience - but this is still a good product.
--Value for money--
Around the £8 mark is standard for specialist whitening toothpaste: big brands reputed for this area of expertise, such as Blanx, The Breath Co, and Arm and Hammer all charge this sort of money. So it isn't out of step. However, compared to 'normal' toothpastes, it is a little steep - although if, as mentioned, you find you need to use less of it than a normal toothpaste, meaning that the tube lasts longer, and you get the specific result that you're hoping for, you're likely to pay it.
perfect partners
Instant Whitening System, £35
2 Week Whitening System, £20
1 Week Whitening System, £10
Pro Clean and Polish System, £65
Pro Clean and Polish Paste, £10
Pro Clean and Polish Heads, £10
Daily Whitening Toothpaste, £8.50
Blue Light Tooth Whitening System, £30
Express Sensitive 5 Minute Dissolving Tooth Whitening Strips, £23
Express Max Effect 5 Minute Dissolving Tooth Whitening Strips, £23