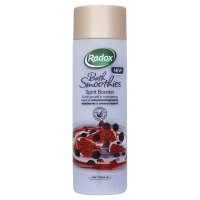 available in 3 variants: Spirit Booster (pomegranate, yoghurt and elderberry), Soul Soother (cranberry, blackcurrant, camomile), and Tropical Tranquility (myrrh, coconut and almonds)
--What does the promo say?--
"Radox Bath Smoothies Spirit Booster will allow you to relax in the sumptuous bubbles whilst super fruits like natural pomegranate and elderberries, blended with yoghurt, comfort your skin. Packed with berry goodness to leave you feeling totally pampered. Your skin will thank you."
While clearly distinguished from its squeezy-tube Shower Smoothie counterparts, the "handwritten" effect, Radox logo and sumptuous illustrations all identify the product clearly with its brand. Strangely, the bottle is not in the least impractical, and pours and travels well.
Even though no instructions are given on the bottle, it's probably fairly self-explanatory for most: pour a couple of capfuls into a bath until the required bubble quotient is reached. Then just relax! (Can also be used in a shower situation: just rub over wet skin like you would with a normal shower gel, then rinse off.)
The Spirit Booster variant (kindly sent to me by Radox) is a runny purple creamy liquid that's similar to a blackcurrant or elderberry colour. This froths into fine white bubbles and leaves no residue on the skin.
Very fruity and very natural; it's also a very strong smell that lingers on the skin for hours (unlike that of the Shower Smoothies that came before it). The pomegranate and elderberry are detectable in the scent, while the yoghurt isn't (I'm guessing the latter is there mainly for texture though).
--Texture and consistency--
Very creamy and luxurious - just what Radox is famed for. Its runniness means you obviously have to make sure you don't get too enthusiastic about pouring it out of the bottle, though, but not in any serious though.
Softens the skin, but no more than any other bath or shower product. Saying this, though, my body skin is normal to oily, so tends to regulate itself pretty well; this means I don't see nourishing effects perhaps as much as some people.
Surprisingly few companies are offering this quantity of shower gel, for this price, at this level of luxury. The closest companies that come towards filling the gap are Original Source and Dove, but neither of them fulfil the consumer needs that Radox do. In addition, as it's an effective and enjoyable product, I would thoroughly recommend it.

--Other comments--
My complaint with the Shower Smoothies was that they apparently had little in the way of practical function, when what I really like it to combine pampering with practicality. The Bath Smoothie, however, does do both: as well as being a pleasing experience, I can also see how it would nourish, and its strong natural smell has quite an aromatherapeutic effect too. Lovely bubbly.