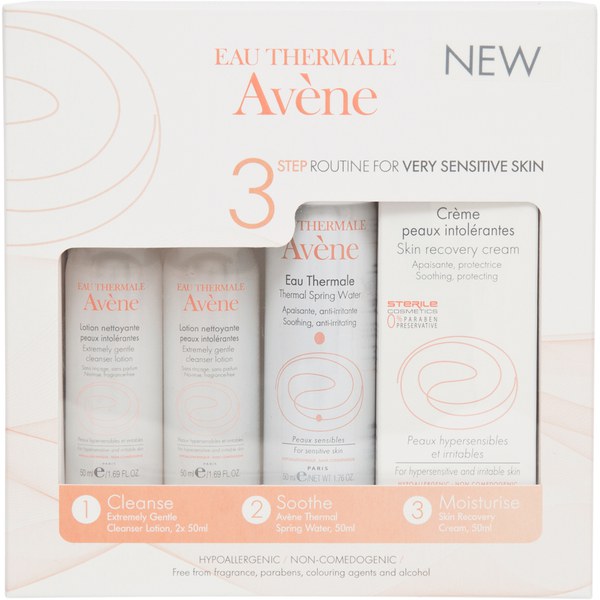 RRP: £20 for 2 cleansers, a toner and a moisturiser
--What does the promo say?--
"

The answer for those whose skin feels tight, blotchy and uncomfortable, this gentle routine contains all the steps needed to soothe, comfort and protect the skin and helps to reduce skin sensitivity long term. Hypoallergenic and non-comedogenic. Free from fragrance, parabens, colouring agents and alcohol.

"
--Packaging--
The cleansers come in see-through plastic bottles, while the toner comes in a spray can (which I have been assured by Avene is suitable for cabin baggage travel). The moisturiser comes in a standard plastic tube. Nonetheless, all good sizes to help you save space in your suitcase. The white and coral colour scheme is calming and unusual.
--Application--
Avène advises applying the cleanser to your skin and wiping it off with a cotton pad. However, it lathers well, so feel free to rub onto wet skin before removing with a damp flannel. The toner can be sprayed directly onto skin, or onto a cotton pad before rubbing over the face. Finally, the moisturising cream should be rubbed into clean dry skin until absorbed. All fairly straightforward really.
--Appearance--
The cleanser takes the form of a pearlescent liquid soap-like substance, which lathers white. The toner is just water really - and the moisturising cream is also white. None leave any visible residue on the skin.
--Scent--
Cotton-like and clean, with no artificial fragrances added. The spring water's minerality is what dominates.
--Texture and consistency--
As mentioned, the cleanser is soap-like and lathers well. The moisturiser is opulently thick, but absorbs well and doesn't leave a greasy or sticky film.
--Effects on the skin--
Skin is visibly calmed and less red, with dry patches combatted, although acne itself does not specifically diminish (but then again the product never claims to do this and Avene has a whole other range for this purpose).
--Value for money--
Avene's PR kindly sent mine over for nothing, but £20 for a travel pack compares favourably to the prices of all of these products separately (£29.50). Equally, it's averagely priced for the travel cosmetics market - and to get 300ml of product for this price is very good. My only change would be to take the toner out of its can so as to see more clearly how much is left. Otherwise, effective and well-packaged products to keep skin calm in the face of sun, sea and sand.
perfect partners
Avene Tolerance Extreme Mask, £15 for 50ml
Cold Cream Body Lotion, £20 for 400ml
Very High Protection Spray (SPF50+), £20 for 200ml
Gentle Eye Makeup Remover, £9.50 for 125ml
Soothing Eye Contour Cream, £10 for 10ml
Hydrance Optimale Skin Tone Perfector (available in multiple shades), £16.50 for 40ml