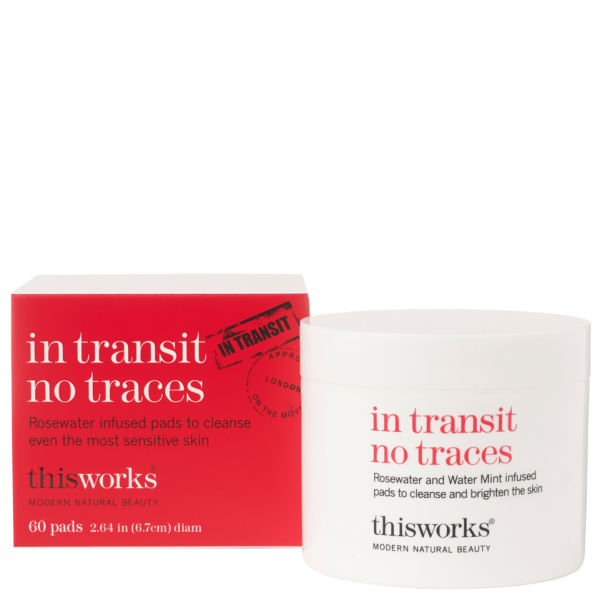 RRP: £17 for 60 cleansing pads
--What does the promo say?--
"

Improving skin moisture whilst removing all traces of dirt or make-up, the this works In Transit No Traces pads can be used morning and evening and work to effectively cleanse the skin whilst maintaining its pH balance. Infused with gorgeous rosewater and water mint, these pads are convenient and fast acting and will definitely be a welcome addition to your routine.
Removes impurities and dirt

Effective on make-up

Suitable for use day and night

Improves skin's moisture"
The red and black colour scheme of the box is vibrant and unusual, and the black luggage-style stamps give an authentic yet quirky feel. Equally, the red continues to stand out on the white screw-top plastic container, where minimal information keeps the pot uncluttered and sophisticated.
Sweep a pad over your face to remove makeup, using both sides of the pad if necessary. The same can be done to simply cleanse - and as they're pre-soaked with fluid, they're perfect for on the go.
The pads are white and textured, and slightly translucent thanks to the fluid in which they're soaked. This leaves no visible residue on the skin, however.
The rosewater is the dominant scent, leaving a clean, cotton-like, fresh smell. The mint, however, is undetectable.
--Texture and consistency--
As mentioned, the pads are textured, which adds extra exfoliation to the process of cleansing. However, this is not overly abrasive. and the fluid in which the pads are soaked has a soothing, cooling effect.
An effective all-in-one cleanser, toner and moisturiser, although does not thoroughly remove the most heavy-duty makeup.
Despite the brand prestige and the quality ingredients, £17 amounts to 28p a pad. Some people will decide this is worth it due to the eco-friendly and other ethical credentials of the brand, while others will think it's a shade too expensive. Nonetheless, it makes for an affordable luxury from a celebrity-endorsed brand.
perfect partners
Camera Close-Up, from £30
Muscle Therapy, £18 for 50ml
Skin Defence, £29 for 40ml