Flowers have been central to health and fashion from the very beginnings of beauty products, tinctures and accessories. Indian Ayurvedic medicine uses hibiscus to give thicker, fuller locks. Calendula has been deployed since Roman times for its anti-inflammatory properties. The bacteriologist Dr Edward Bach pioneered his eponymous - now famous - homeopathic system, which utilises such flowers as honeysuckle (for living in the past), rock rose (for terror and fright) and water violet (for isolation). And we all have memories of mashing up our own flowers and mixing them with water as children to create our very own 'perfume'.
Floral delivery company Bloom and Wild not only celebrates a range of flowers in their beautiful bouquets but has now gone a step further by evoking the power of flowers in art with its new Matisse collection, which includes such plants as alstroemeria, gerberas and chrysanthemums. Evoking different moods and cultural significance as well as sheer ornamentation, the company's new infographic (pictured right) enlightens us as to the use of different flowers by artists throughout the ages, from Botticelli to Jeff Koons.
The infographic also mentions the use of specific flowers that are still used in some of my favourite perfumes today. Anaïs Anaïs, by Cacharel, is a bit 1970s and has a slightly powdery tone to it, but has sentimental meaning for me. It doesn't just contain jasmine - mentioned by Bloom and Wild as having prominence in Indian art for its symbolism of love and fertility - but also orange blossom, hyacinth, rose, lily, and sandalwood - making for a sexy mix overall. My other choices, however, would be Jasmin Noir by Bulgari (a really top-quality fragrance that lasts), and
Flowerbomb by Viktor and Rolf, for a sparklier setting.
This latter fragrance also contains lotus flower - another bloom highlighted as significant for its use in Egyptian and Asian art form. Representing life and creation, it adds real freshness to fragrances - as equally exemplified by another favourite of mine, Hermès' Jardin Sur Le Nil.
The final flower mentioned in the infographic is ivy, which was meaningful in Ancient Greek art for its links to the harvest and theatre. The iconic J'adore (by Dior) and Lolita Lempicka fragrances use this grounding ancient plant.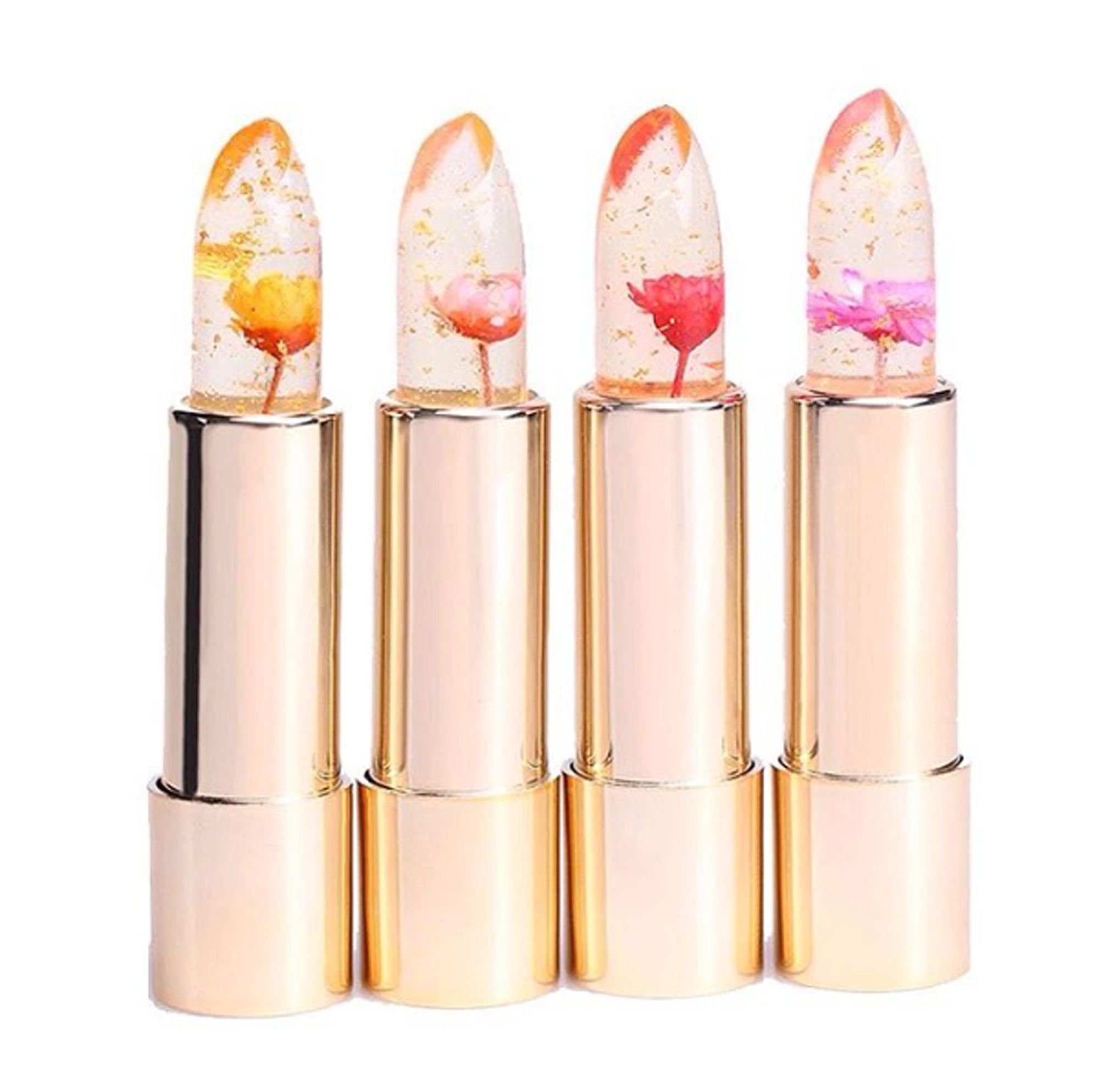 But I couldn't do a post without flowers without mentioning the new cult floral favourite in the world of beauty: Kailijumei's flower lipsticks, which are the latest hit from Hong Kong. The clear jelly lipsticks have dried flowers embedded in them, and thanks to the natural ingredients (such as cocoa butter, candelilla and lavender oil), lips are kept moisturised as well as slightly tinted. The flowers used include rose - which of course, being a classic, is included in Bloom and Wild's Marguerite bouquet - available now as part of the Matisse collection to further indulge our love of flowers.