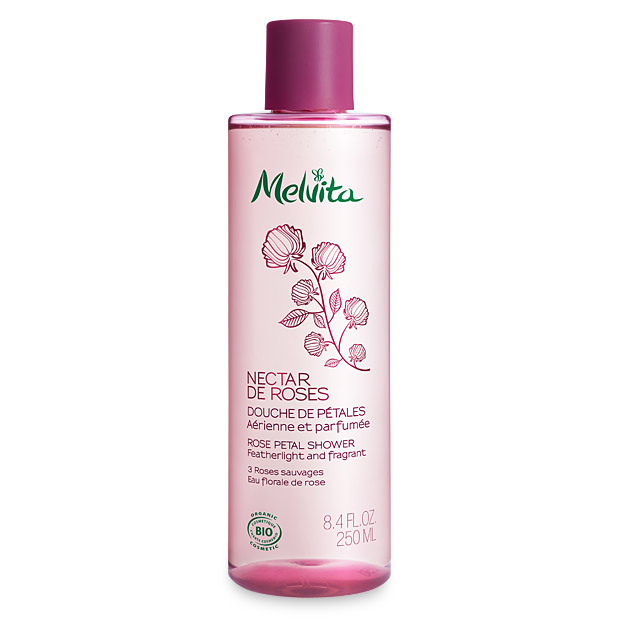 RRP: €14 for 250ml
--What does the promo say?--
"
Organic Rose Shower Gel
is soap-free and contains all the freshness of
three wild rose extracts
collected by hand.
This shower gel gently cleanses skin and turns into a foam with a light floral scent like a shower of petals on the body.
99% of the ingredients are natural;
10% of the ingredients are organic.
Made in France; certified organic by ECOCERT.
Organic Rose Shower Gel
is ideal for:
• Women wanting an organic shower gel which is both gentle and lovely to use
• Gently cleansing skin
• Its fresh, subtle rose scent for instant well-being
• Its light foam texture
• Its sulphate-free formula
• All skin types"
Mine was a travel version in a dark pink squeezy tube that stood up on its lid (as part of a Christmas gift set, the Mini Coffret Rose, available in France but not the UK). The full-size version is in an equally pretty but pale pink translucent bottle, accented by the dark pink lid, dark green Melvita logo, and botanical line drawing that emphasises the brand's valuing of natural ingredients. .
Just lather up in the shower as usual, apply to wet skin, and rinse. Job done.
Despite the pink bottle, the gel itself is clear, and leaves no visible residue on the skin.
Thanks to the use of damask rose, French rose, dog rose and sweetbriar rose (also known as eglantine), the scent of this shower gel is gorgeously intense and multilayered. Put simply, I loved it.
--Texture and consistency--
The gel foams into a fine white lather that feels luxurious on the skin, yet washes off easily when you need it to.
Skin feels beautifully soft after use and the scent lingers wonderfully. Reviewers on the Melvita website also report a reduction in skin redness.
This makes a lovely gift (as mine was, from my sister-in-law this Christmas just past) and a luxurious addition to any bathroom. Highly recommended!
perfect partners
Organic Rose Body Milk, €15.50
Organic Wild Rose Eau De Toilette, €36
Organic Rose Hand Cream, €6
Organic Rose Floral Water, from €7
Organic Rose Micellar Water, from €14.90
Organic Rose Cleansing Milk, €14.90
Organic Rose Multi-Use Balm, €11
Organic Rose Lip Balm, €6.50
Organic Rose Limited Edition Extraordinary Water, €29
Organic Rose Milky Cleansing Oil, €20.90
Organic Rose Face Mask, €19.90
Delicate Roses Gift Set, €34