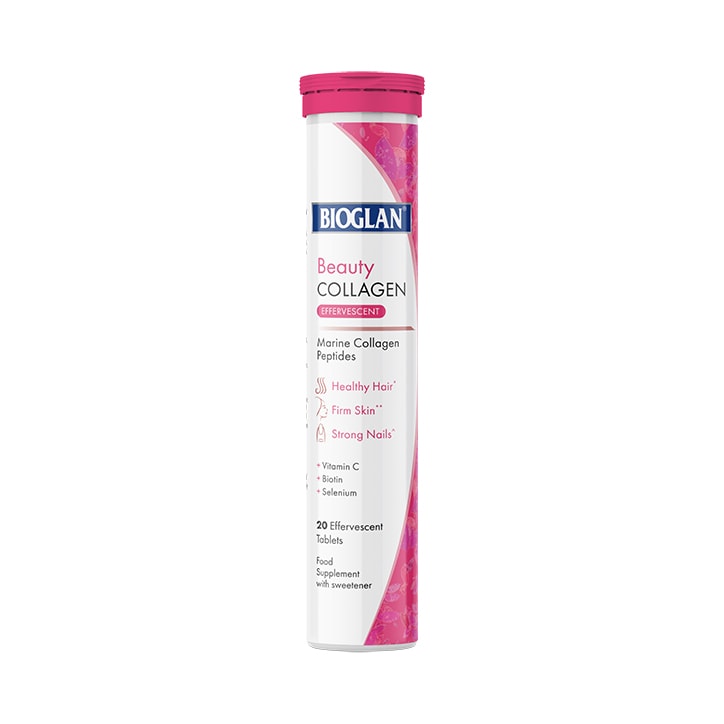 RRP: £8.99 for 20 tablets (10 days' supply)
--What does the promo say?--
"

Bioglan Beauty Collagen Effervescent is specially formulated with readily absorbed hydrolysed Marine Collagen plus carefully selected vitamins and minerals to help support the maintenance of healthy looking hair, skin & nails. Each effervescent provides 500mg of Marine Collagen in a delicious berry drink. Just add 1 tablet to a glass of water or your water bottle to provide a good top up of Collagen levels. Bioglan uses Type I Collagen, which is the most abundant form of Collagen found in the body and the type found in hair, skin and nails. Biotin & Selenium contribute to the maintenance of normal hair. Vitamin C contributes to normal Collagen formation for the normal function of skin. Selenium contributes to the maintenance of normal nails."
--Packaging--
The hot pink and navy blue combination against the white background is really eye-catching; the lid also opens easily when you pull, but closes securely when needed. Long-term, though, I'd like to see the company moving away from plastic packaging, for all the obvious environmental reasons.
--Usage--
Dissolve 2 tablets per day in cold water, and drink. This is easy to do. I have one with breakfast and another as a refreshing afternoon cooler (perfect for the current hot weather!).
--Appearance--
The tablets are pink and create a pleasing pink fizzy drink that leaves no visible residue on teeth etc.
--Taste--
As promised, the berry flavour of the tablets is really very pleasant, making taking these no hardship.
--Texture and consistency--
The tablets are a little powdery but fizz away completely in the water to create a carbonated-style drink.
--Effects--
This product promises to improve hair, skin and nails. I definitely got a compliment about the condition of my skin while taking these (and while not changing anything else) - so I'd definitely say it works on this front, and that was while taking only one tablet per day. So taking the recommended 2 tablets per day would show even more dramatic results. When I trialled the gummies from the same range, by comparison, I took the maximum dose and saw significant strengthening of my nails during that time. I cannot say I've seen drastic results regarding my hair - but then again, as mentioned, I wasn't taking the maximum dose, so this is hardly a fair assessment. Again, in my review of the gummies, a greater effect was seen when using the product exactly as recommended.
--Value for money--
Much of what I wrote on the review of the gummies remains valid here. Happily, the effervescent tablets are slightly better value for money, at 89p per day when taking the maximum dose (compared to a staggering £1.58 per day for the maximum dose of the gummies). So if I was going to continue, it would likely be with the effervescent tablets: they are easy and pleasant to take, and produce clear results. Would recommend.
Bioglan Beauty Collagen tablets, £22.99
Bioglan Beauty Collagen powder, £29.99