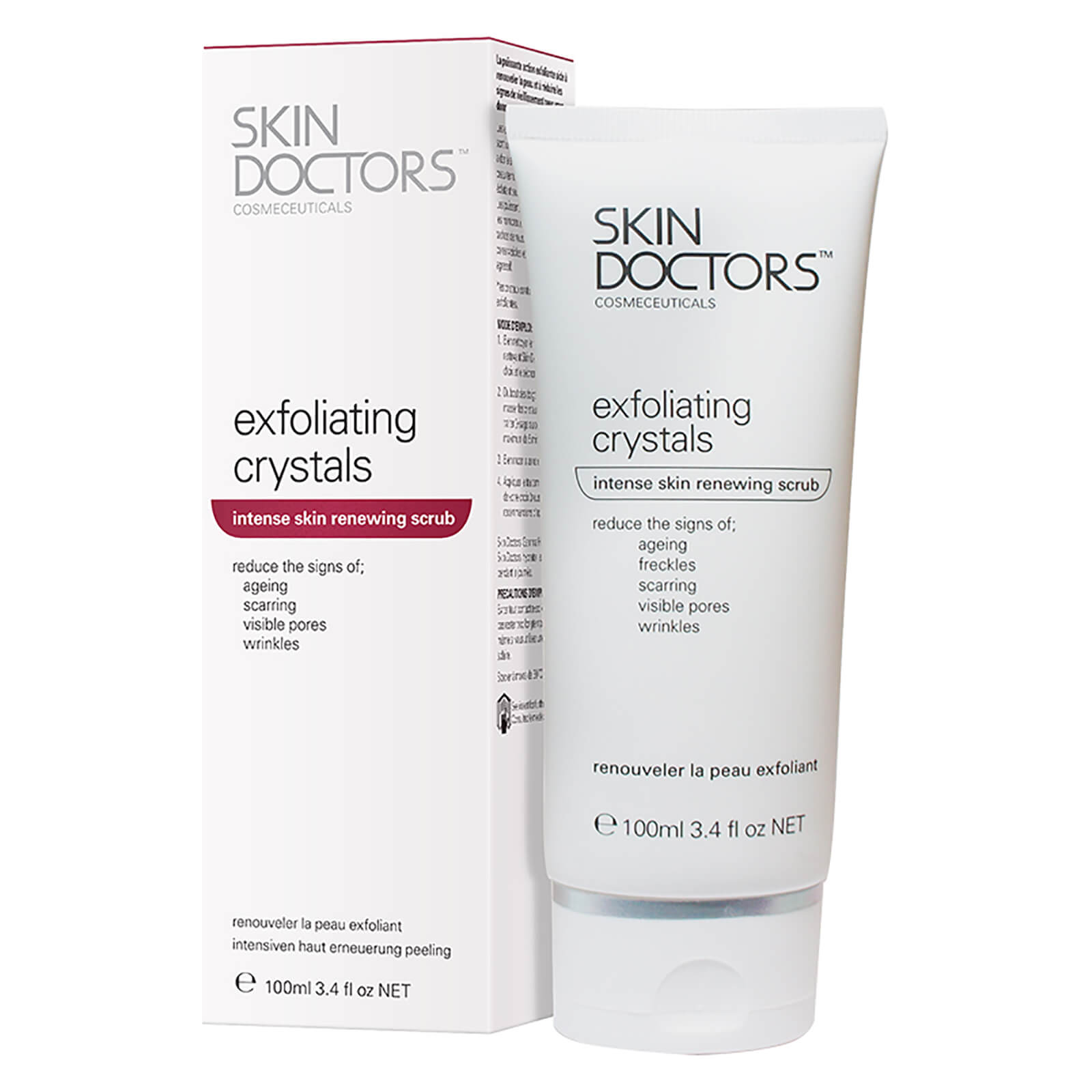 RRP: £18.99/100ml
--What does the promo say?--
"

Skin Doctors

present the

Exfoliating Crystals

; a refining scrub that utilises microencapsulated beads to deliver a powerful exfoliating action, without scratching or damaging skin. Working to buff away dead and dull skin cells, the advanced crystals minimise the appearance of visible pores, wrinkles, pigmentation and uneven skin tone, revealing brighter, smoother results.
Infused with Melaleuca Alternifolia (Australian Tea Tree Oil), known for its anti-bacterial properties, its formula helps treat infections, acne and blemishes so you can experience visibly improved, refreshed and clearer skin with every use. Skin is left radiant and velvety soft. Suitable for use on the face and body."
The monochrome scheme, with a discreet band of silver above the lid, is both sophisticated and unisex. The flip-top lid is practical and easy to use. However, for obvious environmental reasons, it would be appreciated to see the brand moving away from plastic packaging in the future.
Cleanse the face thoroughly and pat dry before rubbing a small amount of the product over the skin. Dust off the crystals with a dry face cloth. Rinse the area thoroughly and then pat dry again. Use 1-2 times a week. All very straightforward.
A white paste/lotion with barely detectable white granular particles. It is emphasised on the Skin Doctors website that these are *not* microbeads (without telling us what they in fact *are*).
The tea tree oil is subtly detectable.
--Texture and consistency--
Satisfyingly scrubby while still feeling moisturising.
Mattifying and calming in the immediate instance, while improving complexion long term and giving a brightening effect.
At £18.99 a pop this is in line with other premium brands such as Ren, Clarins, Clinique and Kiehls, and quality-wise compares well with them, producing clear results. Would recommend.
pH Balancing Cleanser, £12.99