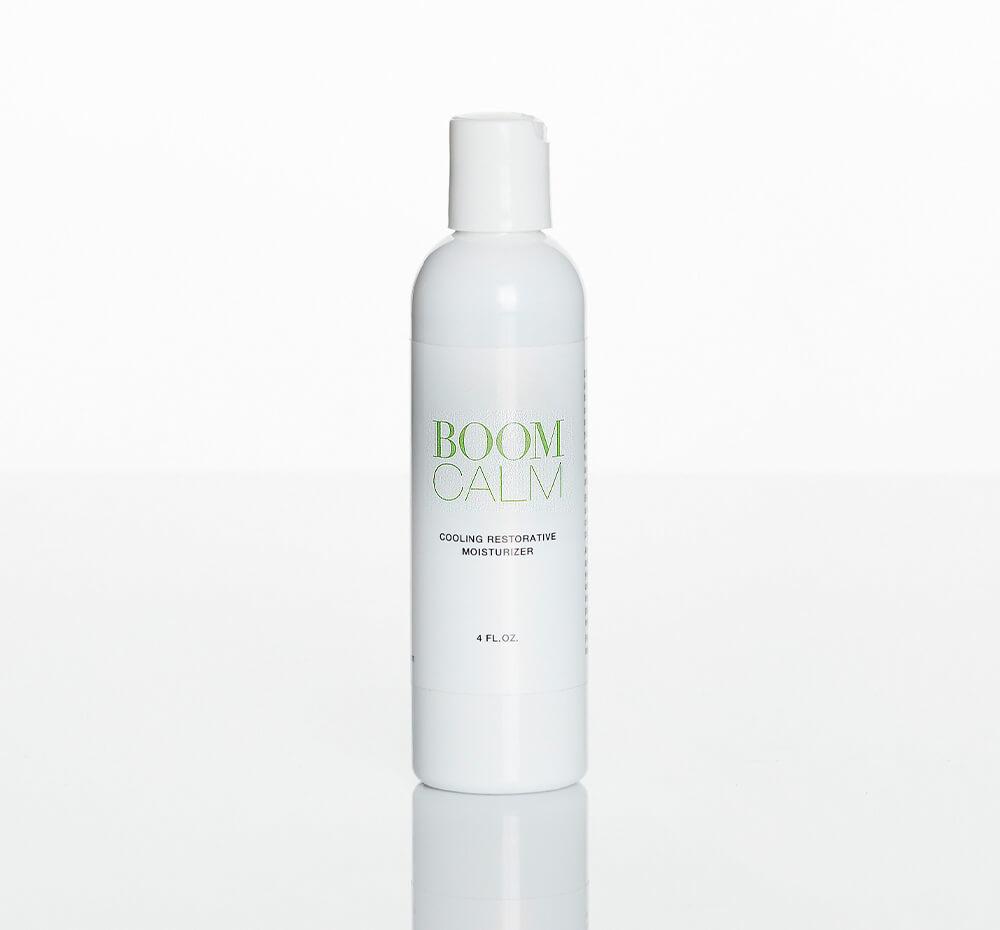 RRP: $44 for 4oz
--What does the promo say?—
"BOOM CALM is designed for extreme weather. It gently soothes, nourishes and restores your skin's natural radiance after you spend time in the sun, wind or harsh temperatures. You're left with beautifully restored, hydrated skin that feels cool (and soft) to the touch. This lightweight liquid moisturizer delivers a powerful blend of Aloe Vera Gel, essential oils and all-natural ingredients to soothe your skin from head to toe, leaving you calm and cool. Boom Calm enriches your skin with vitamins, minerals, natural enzymes, fatty acids and other nutrients to replace any dryness with beautifully soft, glowing skin."
--Packaging--
As with all BOOM products, presentation is minimalist and clean-looking, with white being the prominent colour. BOOM CALM comes in the same type of bottle as BOOM CLEAN and BOOM SCRUB with a lid that flips up to dispense the product through a small nozzle. The logo is a cool green. The bottle is opaque so you cannot see how much is left whilst using it, although the decreasing weight of the bottle gives you a fairly good idea. Remember to unscrew the lid and remove the seal before trying to squeeze the product out through the nozzle.
--Application--
Simply massage this lightweight, liquid moisturizer into any area of your skin that needs soothing. It's quick-drying and is easily absorbed into your skin without leaving any oil or residue behind. You can use this full-body moisturizer from head to toe to replace any dryness with beautifully hydrated, glowing skin.
--Appearance--
BOOM CALM is an opaque liquid moisturiser and is a pale yellow colour.
--Scent—
BOOM CALM smells divine. The most pervading smell is that of geranium oil, which is extremely pleasant to have close to your nostrils and all over your face. Geranium oil is well known for reducing redness and calming skin. The scent is calming in itself and feels like an aromatherapy session. Very pleasant at bedtime!
--Texture and consistency--
The texture is thinner than Boom's other moisturisers, probably because of the addition of so many essential oils. It resembles a serum in consistency and comes out of the tube very easily.
--Effects on the skin—
For the purposes of this review I used BOOM CALM on my face only as, testing it through the autumn, this was the part of my body most exposed to weather conditions at this time of year. (South of France: sun still quite hot but often very windy.) As with all BOOM products, a little goes a long way. My BOOM CALM arrived when I had just got back from a very windy autumn walk so I decided to use it straight away…and particularly across my sensitive lips. It worked well. There is an immediate sensation of coolness on application. At this time of year, I would recommend this product especially for winter sun and skiing holidays.
--Value for money--
I was given BOOM CALM free to trial for Bianca's Blog (Thank you, BOOM!). At $44 for 4oz, this may seem an expensive product but as so little is used it lasts ages, especially if you are only using it on your face, as I did. I am finding that the combination of BOOM products on my skin has definitely improved the texture and quality of my skin tone so I would continue to purchase this for myself. With the gradual addition of its new products, BOOM is now providing for all your make-up and cleansing/moisturising needs. Am definitely a BOOM convert. Shipping from America needs to be added to the cost, so sometimes it is worth placing a bulk order with other BOOM products to increase value for money. International flat rate shipping charge costs $30 and it takes between 7 – 15
working days to arrive. Be sure to select this flat shipping rate option, or you may be faced with additional customs charges when your package arrives. My products took eight working days to get from America to my home in the South of France.
perfect partners
BOOMSTICK GLO, $28
BOOMSTICK COLOR, $28
BOOMSTICK GLIMMER, $28
BOOM SILK moisturiser, from $29
BOOM COTTON moisturiser, from $36
BOOM NECTAR skin serum, from $58
BOOM CLEAN, from $34
BOOM SCRUB, $48
BOOM MASK, $42
by Sarah Cross