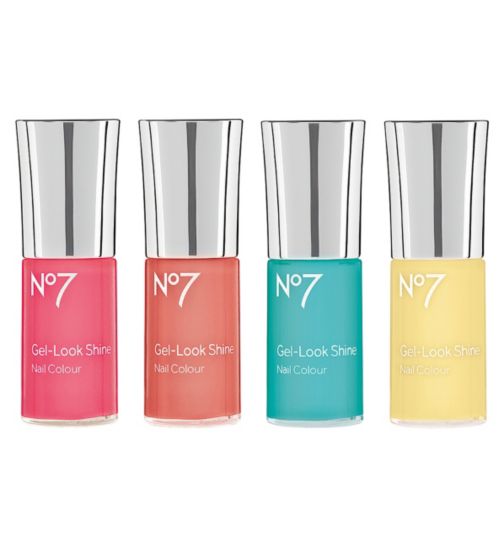 RRP: £7
# of shades available: 21
--What does the promo say?--
"Our patented technology makes the polish tough and flexible to help prevent chipping and improve ease of application to help achieve a streak-free finish. Complete coverage in just one stroke, with outstanding and durable gel look shine. Helps to smooth and plump nails so natural ridges can't be seen, for best results use in combination with the top coat. Rich colour pay off in one coat. Plumps and volumises in 2 coats."
Sophisticated and minimalist with a pleasing and ergonomic curve on the lid for easy handling. The No7 logo is centre stage on the bottle, clearly demarcating it as one of Boots' own. The lack of unnecessarily massive stickers is equally pleasing, allowing you to always see how much you have left. The brush is a bit big for my liking, though, although I suppose this does mean you have a greater chance of covering the nail in one stroke.
Apply a base coat and allow this to dry thoroughly before painting one stroke down the centre of your nail. Add a further stroke down each side if necessary, so that the entire nail is covered in colour. Leave this coat to dry before attempting to apply a second coat. Finally, finish with a top coat once the colour is dry.
The shade I was sent by Boots' PR (thanks guys!) was the rose gold shade, which I really love - perfect for both summer and Christmas, it adds a bit of shimmer to any outfit and goes with basically everything, whether you're wearing silver jewellery or gold. I tend to go for metallic nail colours for this reason and this is a great one to have in the kit alongside the classic silver, gold, copper and bronze.
--Texture and consistency--
Perhaps a little thick for my liking, but this is easily sorted by putting a couple of drops of nail varnish remover into the bottle and giving it a good shake.
To be honest, I didn't find this polish to be any more robust than others I've tried. A shame, as this whole 'gel-nail-a-like' concept really appeals to me (I find that real gel nails are often too damaging).
At £7 this is about standard for nail polish. Truthfully, without the longevity claims stacking up, I wouldn't want to pay any more for it, regardless of how much I love the colour. However, you can buy nail polish from other brands that specialise in nails for the same or less money, such as Sally Hansen or Mavala, so I can understand why you'd go for this option instead. It would be great if Boots could maybe go back to the drawing board on this one so I could feel that I could get the longevity they promise without having to spend more on their gel-a-like line of base coats and top coats.
Stay Perfect Base Coat, £6
Stay Perfect Top Coat, £6
Nourishing Nail and Cuticle Care, £6
Strength and Growth Treatment, £8