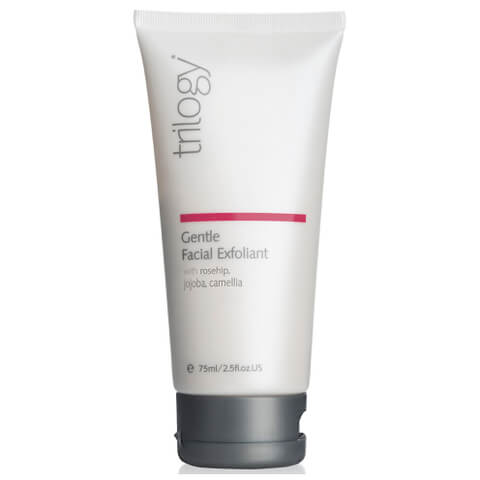 RRP: £21.50
--What does the promo say?--
"

The fast way to a fresh new complexion with glowing results you'll see instantly, Trilogy Gentle Facial Exfoliant is a gentle, creamy treatment that removes dead skin cells and surface debris that dull your skin's appearance.

Formulated with jojoba wax spheres and camellia oil to gently buff away impurities and nourishing botanical oils to reveal softer, smoother, more radiant skin, Trilogy Gentle Facial Exfoliant is an essential part of your beauty regime."
--Packaging--
The red, white and silver colour scheme is a bit spartan, but at least unisex and practical, with the flip-top plastic lid proving robust. Gives you only the information you need and nothing more - so cuts the spin and makes it easy to read.
--Application--
Massage in circular motions onto moistened skin before rinsing off and following with moisturiser. Pretty simple really.
--Appearance--
Off-white, with barely visible grains. No visible residue is left on the skin.
--Scent--
The jojoba and camellia gives a really clean, natural scent that isn't overpowering.
--Texture and consistency--
To quote Trilogy's PR, "
The
Trilogy
range has always been and will always continue to be free of plastic microbeads." This is a great thing, as not only is the environmental impact significant, but natural exfoliants always tend to be more effective anyway. The jojoba microspheres in this product are no exception - pleasantly scrubby without irritating the skin.
--Effects on the skin--
Further to this, the brand mantra is
'maximum effect on your skin, minimum effect on our environment'. This is borne out by this product, which sloughs off dead skin while moisturising thanks to the natural microspheres and combinations of essential oils.
--Value for money--
While at £21.50 this seems expensive, you can shop around for good deals, and furthermore, this is a high quality product which lasts a long time (a little goes a long way!). You can equally be confident in the knowledge that by buying this product and not one containing microplastics, you are helping to protect the environment too.
perfect partners
Balancing Face Lotion, £26.50
Hydrating Mist Toner, £17.50
Rosehip Oil Antioxidant+, £26.50