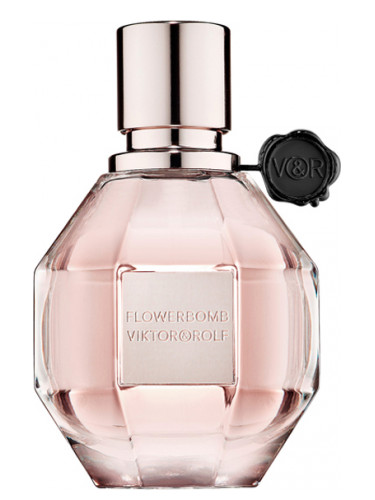 RRP: from £39.99
available in 30ml, 50ml and 100ml
--What does the promo say?--
"FLOWERBOMB is a floral explosion, a profusion of flowers that has the power to make everything seem more positive. Magically evocative notes will immediately awaken your deepest senses, giving you the impression of living life in your own secret garden away from reality. All our fragrances are 100% originals by their original designers. Satisfaction guranteed."
--Packaging--
A nice concept, which stands out easily in a market of generic square bottles. It's easily associated with both ideas that the title embodies, and it all makes for something very different, fresh and young, and the purple and black that are also used in the colour scheme mean that the copious amounts of pink don't have to put off less girly girls. The circular, and yet still angled and faceted, bottle, is tremendously aesthetically pleasing and wonderfully tactile in the hands.
--Application--
Using the oversized spritzer, spray onto neck, wrists, and chest area.
--Scent--
It is almost unbearably sweet when first sprayed on, with the overwhelming aroma of violets. It could easily be described as sickly or cloying (or indeed both), meaning its appeal is significantly reduced on initial inspection. However, things develop surprisingly positively: it fast becomes a unique fragrance, retaining the sweetness but acquiring extra depth. While not being very subtle, and the sweetness perhaps making the fragrance better suited for a younger audience, it is certainly among the more unique of the plethora of fragrances that I have tried this year. It is a scent that any young woman can make her own: it can be the epitome of girliness, or the elixir of seduction.
--Longevity--
Even on the wrists, this fares very positively: it is a long-lasting fragrance that you can easily expect to last over 8 hours.
--Value for money--
The other products in the range are rarer and so more eye-watering in price. However, the price of the fragrance itself is perfectly middle-of-the-road and not out of reach for any young fragrance lover who wants something a little bit different. Thumbs firmly up.
perfect partners
Flowerbomb Body Lotion, $59.14 from beautive.com
Flowerbomb Voluptuous Body Cream, $115.80 from beautive.com
Flowerbomb Sparkling Loose Body Powder, $111.25 from beautive.com
Flowerbomb Perfumed Shower Gel, $71 for 200ml