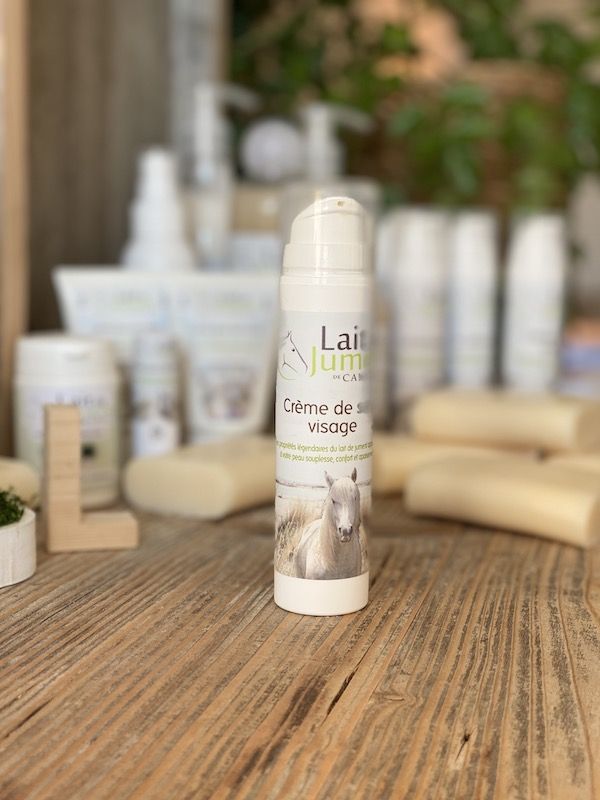 by Sarah CROSS
RRP: 30€
--What does the promo say?—
"Let nature take care of you thanks to the legendary qualities of Camargue mare's milk. The magical effect of mare's milk remains an enigma for scientists; however its healing properties are indeed real. It has been shown in the past that drinking mare's milk cured certain illnesses and that the face and skin looked younger and more beautiful as a result. This discovery led to the development of cosmetics using mare's milk as it seemed clear that external application would also have a beneficial effect on the skin. Mare's milk in the form of creams and soaps is therefore particularly suited to problem skin and helps to make it look more beautiful. All our beauty products are natural and handmade. This product is more like a beauty serum than a face cream as it is made from 40% mare's milk (the highest percentage in our range of products). It leaves your skin feeling sensationally soft and provides all-day protection. It's non-allergenic and kind to the skin. Its neutral pH means that it is suitable for all skin types: dry, sensitive, greasy or combination skin. Mare's milk also helps combat skin problems such as acne, psoriasis, eczema, allergies and itchy skin.
--Ingredients--
Mare's milk, hordeum vulgare, calendula officinalis, chamomilla recutita and rosa centifolia plant extracts, organic lavender essential oil, organic geranium essential oil
--Packaging--
The CRÈME DE SOIN VISAGE comes in an opaque white pump-action dispenser. It has a paper wrap-around label with discreet logo of a horse's head, the Camargue cross, the name of the product in black and green lettering and an attractive picture of mares in the Camargue. It looks clean and minimalist. The sealed container keeps the product inside clean and stops it from drying out.
--Application--
Simply press down the pump once and the nozzle dispenses a small dose of cream to massage into your face. A little goes a long way. I find that two squirts, one in each hand, do my entire face and neck. The cream is easily absorbed into the skin without leaving any oil or residue behind.
--Appearance--
CRÈME DE SOIN VISAGE is an opaque, liquid moisturising serum and is milky white.
--Scent—
Sold as 'natural', the cream has no distinct or over-powering scent but smells clean, sweet and vaguely floral. It is a pleasant smell to have close to your nostrils and all over your face.
--Texture and consistency--
The texture is that of a serum, a thickish liquid that comes out of the dispenser easily.
--Effects on the skin—
I have quite dry skin so I really appreciated the consistency of this serum. Once applied, it was quickly absorbed and left no oily or greasy traces. My skin just seemed to drink it in. The appearance of fine lines was reduced and my skin looked glowing and healthy.
--Value for money--
Initially I thought the container quite small for 30 euros; however, I was quite astonished at how long it lasted. Applied both morning and night, the tube lasted ten whole weeks! I am really enjoying using these products and, since I live near the Camargue, I am very happy to be supporting a small local business that has a love and passion for animals and for creating natural beauty products. Have a feeling I will be using these products for some time to come. Watch this space for more reviews.
perfect partners
LAIT DEMAQUILLANT (Make-up remover), from €9
CRÈME PEAU SECHE ET SENSIBLE (Cream for dry and sensitive skin), from €9
SAVON AU LAIT DE JUMENT NATUREL ET HYDRATANT (Natural moisturising mare's milk soap), from €2
CRÈME POUR LES MAINS (Hand cream), 11.90€
CRÈME POUR LES PIEDS (Foot cream), 11.90€
COMPLEMENTS ALIMENTAIRES (dietary supplement capsules), 29.90€