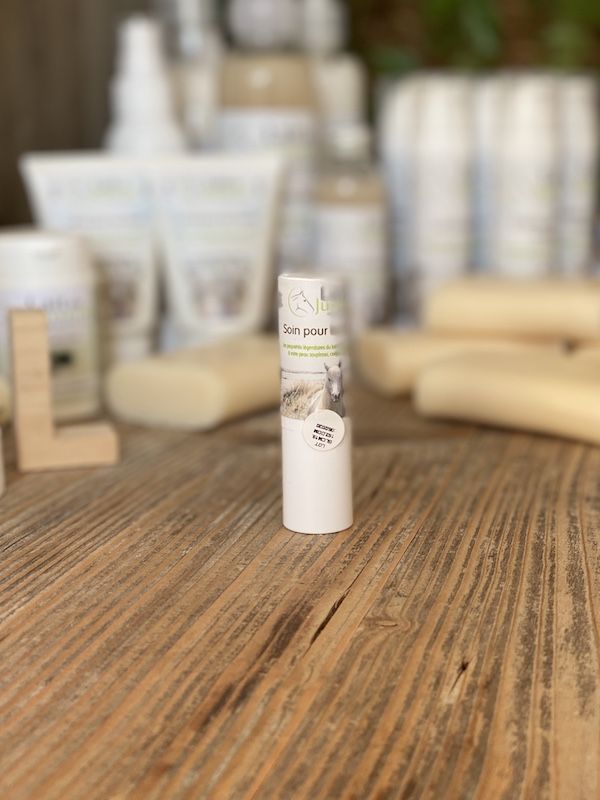 RRP: 8€
--What does the promo say?—
"Moisturisation and protection guaranteed with our SOIN DES LEVRES! This lip balm is so rich that it will quickly repair and protect your lips from the effects of the cold and the sun. Good for cracked and sore lips, it is rich in moisturising ingredients such as shea butter and beeswax, which reinforce the qualities of Camargue mare's milk. It nourishes, softens and protects your lips to the maximum. It does not contain a UV filter and is a natural product containing no chemical ingredients. (Any conservation agents used have been approved by Ecocert.) Suitable for daily use."
--Ingredients--
Shea butter, grapeseed oil, beeswax, aloe vera, jojoba oil, argan oil, lemon essential oil.
--Packaging--
The SOIN DES LEVRES comes in a standard lipstick format. It has a paper wrap- around label with discreet logo of a horse's head, the Camargue cross, the name of the product in black and green lettering and an attractive picture of mares in the Camargue.
--Application--
Apply like a lipstick, to top and bottom lip, and rub lips together to smooth the product in thoroughly.
--Appearance--
The SOIN DES LEVRES is a solid creamy-yellow stick.
--Scent—
The scent on this is very faint indeed, which I prefer to other lip balms I have used. You are not left with a strong taste on your lips. It feels completely natural.
--Texture and consistency--
The texture is quite solid and hard. I have a feeling that it will last longer than most sticks of this type because it doesn't 'melt away' or wear down quickly as some do.
--Effects on the lips —
My lips feel instantly hydrated and the effect lasts a long time. A bonus: I also apply it around the contours of my lips to reduce the fine lines and it works a treat. Used before going to bed, it keeps my lips moisturised all through the night.
--Value for money--
Very good value for the quality of the product and the fact that it will last a long time.
perfect partners
CRÈME DE SOIN VISAGE (Face cream) 30€
LAIT DEMAQUILLANT (Make-up remover), from €9
CRÈME PEAU SECHE ET SENSIBLE (Cream for dry and sensitive skin), from €9
SAVON AU LAIT DE JUMENT NATUREL ET HYDRATANT (Natural moisturising mare's milk soap), from €2
CRÈME POUR LES MAINS (Hand cream), 11.90€
CRÈME POUR LES PIEDS (Foot cream), 11.90€
COMPLEMENTS ALIMENTAIRES (dietary supplement capsules), 29.90€